Walk-in to both Corona, CA and Newport Beach, CA locations for a quick and convenient Botox Cosmetic treatment! R.S.V.P. your walk-in time to skip the line! BLACK FRIDAY BOTOX PURCHASES CAN BE USED ON WALK-IN DAYS
💉 Botox $11 per unit

💉Complementary merchandise- CC hat, CC t-shirt or a ARMÉE matte liquid lipstick
💉 30+ units Receive a complementary Botox lip flip, brow lift or nose tip lift ($150 value)
💉 Lipo shots $30 add-on
💉 Hydrafacial MD $159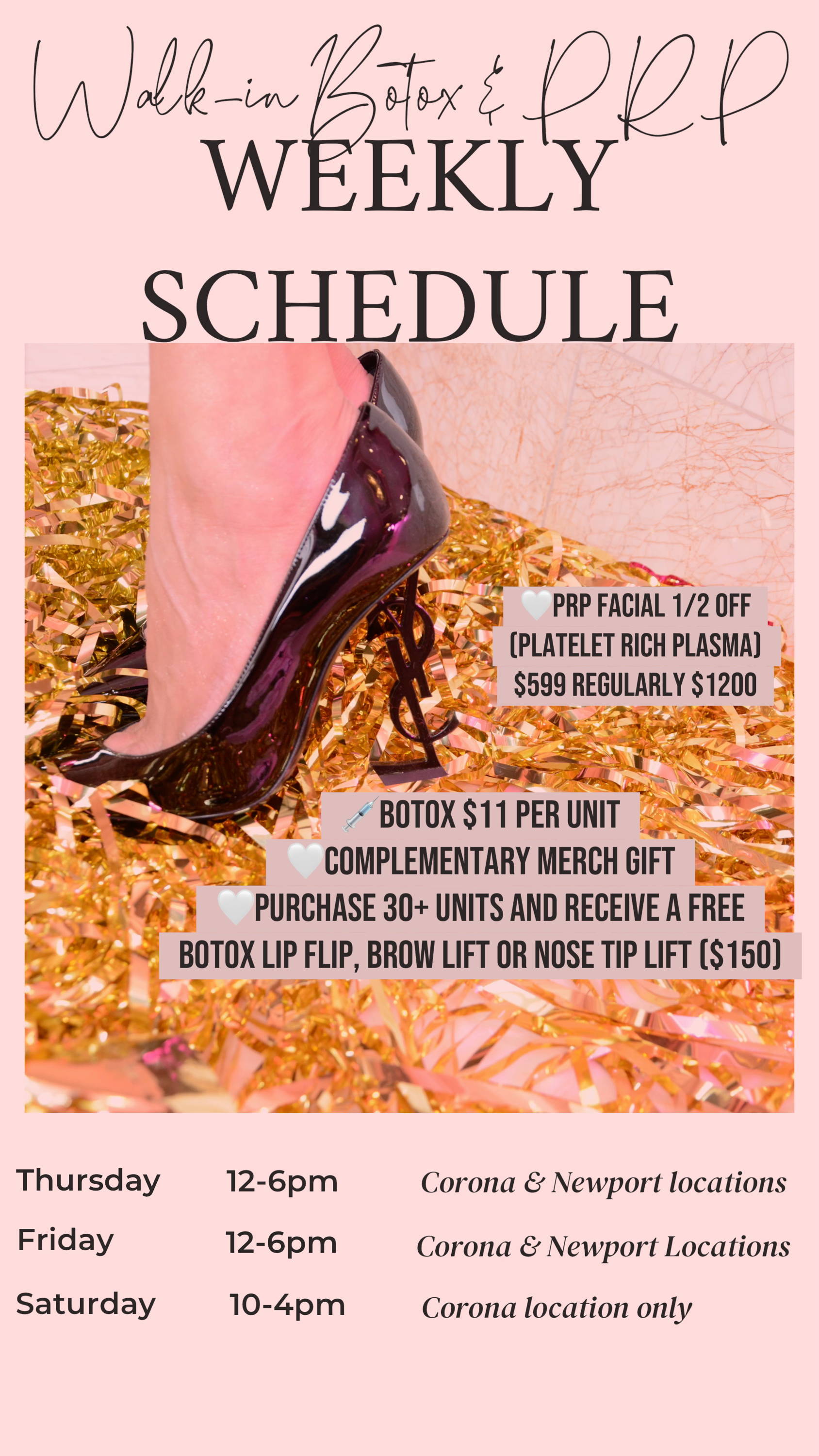 Use our Virtual Consultation Form to request your California Cosmetics Virtual Consultation.
Once your form is received, a member of the CC team will contact you to schedule your video conference.
After your Virtual Appointment is scheduled, you'll receive an email containing a Zoom link and all the necessary information needed to make sure that we can provide you with our world-class CC service.
At the end of your appointment, you will be given the option to schedule your service at one of our California Cosmetics Orange County locations.
💎 Surprise gifts

💎 Loyalty rewards
💎 Unique sale offers
💎 $100 birthday gift card

💎 Exclusive invites to V.I.P. premier parties
💎 Exclusive access to promotions, and more!
Don't forget to stay in touch! Sign up for our VIP list to be first to know about our current med spa specials plus receive exclusive access to promotions in our Newport Beach and Corona locations. The perks don't stop there—our VIP members enjoy access to California Cosmetics giveaways, events and contests. Sign up today!
Can I pay for my treatment using CareCredit?
Yes, California Cosmetics does accept CareCredit! We believe in making our med spa services more accessible to everyone and we proudly offer a variety of financing options for our Orange County beauty babes. We have carefully selected user-friendly partners who can quickly and easily help our patients achieve their aesthetic goals. Visit our finance page to learn more about our CC financing options available.
How do I redeem my California Cosmetics purchase?
Ready to receive your med spa service? Here are your options to plan your visit to our Corona or Newport Beach locations:
Does California Cosmetics offer refunds on our services?
To learn more about our refund policy, please visit our refund page.
How much BOTOX, CoolSculpting, JUVEDERM—or whatever else— do I need?
Wondering just how many units of BOTOX you need to treat your fine lines and get that 'toxed lift? Or the right amount of JUVEDERM to achieve that sexy pout that you've been dreaming of? Maybe you're asking yourself how much CoolSculpting will get you t to your #BodyGoals. California Cosmetics' team of Aesthetic Nurses is ready to answer all your questions that will get you to your desired look—whatever that may be. We proudly offer Virtual Consultations from the comfort of your own home for both our Corona and Newport Beach, CA locations.
Can I purchase California cosmetics specials as a gift?
Yes, you are absolutely able to purchase California Cosmetics gift cards and procedures as gifts through our website! All you need to do is give the order number to the gift recipient. From there they will need to provide the order number to us upon scheduling the appointment.
Can I split a package with someone?
No, unfortunately, all services have to be used by one person.
How long do I have to redeem my package/when does it expire?
Lea's B-day sale packages must be redeemed by May 31, 2022. Feel free to shoot us a call or text at (855) 977-1982 if you have any further questions. Sale ends April 28, 2022 at 11:59p.m.
Do I have to pay a deposit to schedule an appointment?
The $100 deposit will be taken as a no show/late cancel policy fee if a patient does not cancel within 24 hours of scheduled appointment. If a patient is prepaid, and cancels less than 24 hours prior, they will be required to put down a $100 deposit for future appointments.
What if I call to inquire about a sale and am unable to reach someone to ask questions prior to the sale ending? Can I still purchase at the sale price?
We will honor a sale price for you if you leave us a voicemail or send us a text while we're out of the office. Once we verify that you did try to contact us, we would be happy to honor the sale price and take the full payment over the phone.
ENJOY THE PERKS OF OUR MEMBERSHIPS
Looking for more ways to save on all your favorite CC looks? Explore our Membership options to enjoy unbeatable savings and VIP treatment on things like BOTOX, dermal filler, HydraFacials and more!