How Much Does Chin Augmentation With Fillers Cost in Orange County & Riverside County?
This package is priced at $999.00. However, because we fully customize your treatment to give you the best outcome, your price may vary a bit depending on the amount of product used. We'll give you a pricing estimate during your consultation.
What Does the Chin #GOALS Package Include?
This package includes everything you need to get stunning nonsurgical chin augmentation results:
JUVÉDERM® VOLUMA XC: Adds volume to the chin to balance your facial proportions, frame your face beautifully, and create a stronger, more defined chin without surgery.

Together, this creates a truly gorgeous transformation—one some people even get surgery to achieve. But you get it all with a few quick injections performed by our specially trained team.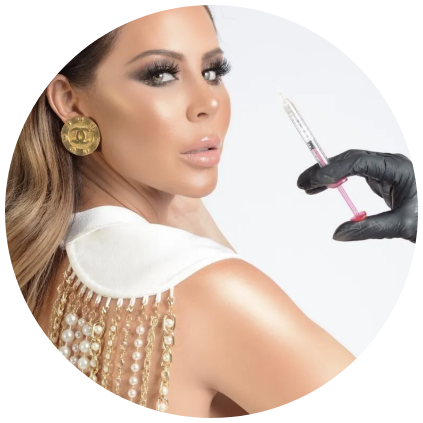 Meet Our Team Of Trained Aesthetic Specialists
Trust your ultimate #GlamGoals to a team of experienced aesthetics pros dedicated to being the best injectors, slimming specialists, and make-over magicians in Newport Beach and Corona. Each of our injectors (all RNs or MDs) are required to have completed a specialized 4-month injection training program on top of their existing medical education. This, along with their experience and sheer passion, ensures you get the results you're obsessed with while being in safe, skilled hands every step of the way.
Q: Can I Get Chin Augmentation and KYBELLA® Done in the Same Appointment?
A: Looking for a little extra chin and jawline definition? KYBELLA dissolves away the excess fat under your chin, making a "double chin" disappear and giving your lower face an even slimmer and sharper look. You can have both of these treatments done at the same time for the ultimate result in our Jawline on Point package.
Q: How Is Chin Augmentation Different for Men?
A: Male chin augmentation works in the same way: using BOTOX® to smooth the skin and adding fillers to enhance the shape and size of your chin. The main difference is that men may need a little extra filler to create an exquisitely chiseled and masculine-looking chin.
Q: Is Chin Augmentation Painful?
A: We use topical numbing creams and an injectable numbing agent to make sure you're totally numb and at ease during your treatment. We're all about keeping you comfortable—it's one reason our clients love coming to us for their injections!
Q: How Long Does Nonsurgical Chin Augmentation Last?
A: Chin filler lasts about a year and BOTOX® lasts about 3 months. Come in for a quick maintenance appointment after a few months and we'll keep you looking fabulous.
What to Expect at Your Chin Augmentation Appointment
You'll start by talking over all your goals and designing your dream look with your
highly trained and experienced injector
. Your injector will then administer a few injections into your chin to bring that look to life. The whole process typically takes less than half an hour - perfect for a lunch break!
What Is Recovery Like After Nonsurgical Chin Augmentation?
It's normal to have some swelling for the first few days and up to about a week. You may also have a little redness or minor bruising around your injection sites, which you can cover up with makeup the next day. Your package includes the natural healing supplement Arnica to speed you through the recovery process as quickly as possible.
Don't forget to stay in touch! Sign up for our VIP list to be the first to know about our current med spa specials and exclusive deals on CoolSculpting®, BOTOX®, and more at our Newport Beach and Corona locations. The perks don't stop there—our VIP members enjoy access to California Cosmetics giveaways, events, and contests. Sign up today.
Ready to visit our med spas in Newport Beach or Corona for an injectable chin augmentation? Give us a call or text us at (855) 977-1982. Did you know you can meet with an injector to talk about your treatment without leaving home? Check out our virtual consultations.