What Can JUVÉDERM® Do for Your Jawline?
JUVÉDERM® VOLUMA™ is a thick dermal filler we use to give your lower face striking structure and definition. It creates a better separation between your jaw and neck to give you a sharp, clean jawline that gorgeously frames the rest of your features. And even though the treatment doesn't reduce any submental fullness (that's what KYBELLA® is for), it typically has a slimming effect on your face and neck.
How Does the Nefertiti Jawline Lift Work?
BOTOX® works wonders when it comes to relaxing specific muscles, and that's exactly what it does in this application.
The platysma muscles in the neck run from our jawline down to our collarbones. When these muscles get tight, they pull down below our jaw and make the area look fuller, droopier, and less defined.
When we inject BOTOX® into these muscles and allow them to relax, the muscles and skin are free to lift naturally upward. The result? A more contoured, defined, and spectacularly snatched jawline. It also offers the bonus of smoothing away any platysmal banding you may notice in your neck.
Q: Will Fillers & BOTOX® Slim My Jawline?
A: If you're looking to slim down the width of your jawline itself, you may be a candidate for BOTOX® jawline reduction of the masseter muscle, another favorite treatment of our Newport Beach and Corona clients. We'll talk about all the best options for you when you visit us for a consultation.
Q: What Is It Like to Get a Nonsurgical Jawline Lift?
A: The BOTOX® and JUVÉDERM® injections involved in a nonsurgical jawline lift are quick and easy in the hands of our specially trained injectors. The treatment itself takes a matter of minutes. We'll use topical anesthesia and an injectable local anesthetic called lidocaine to make sure you stay super comfortable the whole time.
Q: What Is Recovery Like After Jawline Fillers & BOTOX®?
A: Recovery time is minimal. You'll be free to jump back into your usual routine right away, though you may have a little swelling and bruising for about a week. You can cover this up with makeup after 24 hours and get right back to doing your thing.
Q: How Long Will My Snatched Jawline Results Last?
A: BOTOX® typically lasts 3 to 4 months, and your fillers may last up to a year.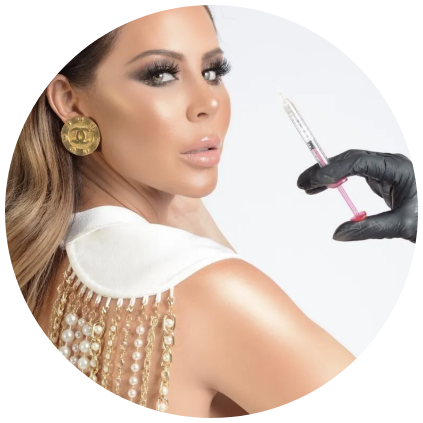 Meet Our Team Of Trained Aesthetic Specialists
Trust your ultimate #GlamGoals to a team of experienced aesthetics pros dedicated to being the best injectors, slimming specialists, and make-over magicians in Newport Beach and Corona. Each of our injectors (all RNs or MDs) are required to have completed a specialized 4-month injection training program on top of their existing medical education. This, along with their experience and sheer passion, ensures you get the results you're obsessed with while being in safe, skilled hands every step of the way.
Don't forget to stay in touch! Sign up for our VIP list to be the first to know about our current med spa specials and exclusive deals on CoolSculpting®, BOTOX®, and more at our Newport Beach and Corona locations. The perks don't stop there—our VIP members enjoy access to California Cosmetics giveaways, events, and contests. Sign up today.
Ready for a jawline that could cut glass? Give us a call or text us at (855) 977-1982. Our medical spas in Newport Beach and Corona welcome people from all over Riverside, Orange County, and Southern California.
Did you know you can meet with an injector to talk about your treatment without leaving home? Check out our virtual consultations.