How Much Does Body Contouring With truSculpt flex and CoolSculpting Cost in Corona & Newport Beach?
We customize our Body Contouring packages to your unique needs and goals. You can choose from the following options:
4 truSculpt flex treatments for 4 areas: $4,800 (a savings of $400)
6 truSculpt flex treatments for 4 areas: $6,600 (a savings of $1,200)
Plus--either option includes 10% off CoolSculpting! As part of your initial consultation, one of our CoolSculpting experts will create a personalized treatment plan that estimates the number of sessions you will need for each treatment.
What Are the Benefits of Doing CoolSculpting and truSculpt flex?
Our most popular body contouring treatments are even better together. Here's how it works:
We lay the foundation for your new curves with CoolSculpting. Those stubborn areas of fat need to go before you get to toning and tightening. During the treatment, you just lie back and relax while precisely controlled cooling does away with fat cells just beneath the skin. Within about an hour, you're done and free to get back to your day. In about a month, you'll begin to notice slimming in treated areas--and you'll keep seeing improvement for up to 3 months as your body flushes away dead fat cells.


Next comes a series of truSculpt flex treatments to build, firm, and tone the abs, glutes, or thighs. We adapt each treatment session to your current fitness level, shape, and ultimate goals to help you gain the results you want right where you want them. We perform these innovative treatments by placing the applicators directly over the targeted areas. Through electrical muscle stimulation, truSculpt flex creates deeper, more rapid contractions than possible with physical activity. Most clients begin to see better muscle tone and definition after the 2nd session and reach maximum improvement about 8 to 12 weeks after their last session. It usually takes a total of 4 to 6 sessions for desired results.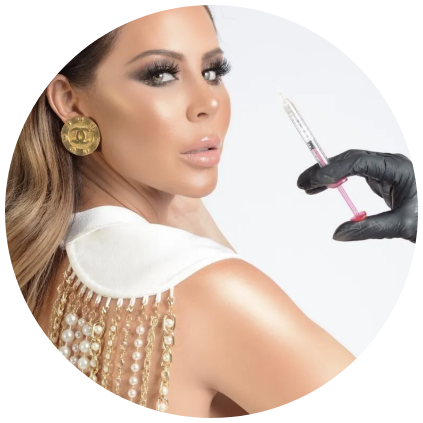 Meet Our Team Of Trained Aesthetic Specialists
Trust your ultimate #GlamGoals to a team of experienced aesthetics pros dedicated to being the best injectors, slimming specialists, and make-over magicians in Newport Beach and Corona. Each of our injectors (all RNs or MDs) are required to have completed a specialized 4-month injection training program on top of their existing medical education. This, along with their experience and sheer passion, ensures you get the results you're obsessed with while being in safe, skilled hands every step of the way.
Your Body Contouring Experience: What to Expect
Indulge in our relaxing, world-class Orange County med spa while our body contouring specialists and advanced technology do all the work.
You will be welcomed by one of our body contouring specialists to plan your treatment. We will determine the number of CoolSculpting treatments you will need and plan them out to give you the best results. The next step in planning is deciding whether it will take 4 or 6 truSculpt flex treatments to sculpt your 4 areas. We will schedule these treatments once CoolSculpting has worked its magic.
Make sure you're well hydrated before either treatment; hydration helps your body's natural processes work efficiently. Make sure your body is free from lotion, perfume, and other substances when you come in. Leave your jewelry at home.
No anesthetic is needed for CoolSculpting or truSculpt flex. You will comfortably recline while the applicators are put in place and activated.
There is no recovery period and no restrictions on activity after CoolSculpting or truSculpt flex. Minor redness and swelling are normal for the first few days. Expect to feel sore, like you've had a good workout, for a day or two after your truSculpt flex treatments.
Good things come to those who wait. Results from CoolSculpting and truSculpt flex emerge gradually as the body's natural processes do their work. Fat reduction takes about 1 to 3 months. Most clients start to see firming and toning after their 2nd truSculpt flex treatment and reach their peak results 8 to 12 weeks after their last treatment.
Don't forget to stay in touch! Sign up for our VIP list to be the first to know about our current med spa specials and exclusive deals on CoolSculpting®, BOTOX®, and more at our Newport Beach and Corona locations. The perks don't stop there—our VIP members enjoy access to California Cosmetics giveaways, events, and contests. Sign up today.