How Much Does a Booty Boost Package Cost in Newport Beach and Corona?
The prices for our Booty Boost packages vary with your needs and the look you want. You can choose from the following options:
Mini Booty Boost: $3,599.00 (includes 10 syringes of JUVÉDERM® Ultra Plus XC)
Super Booty Boost: $6,599.00 (includes 20 syringes of JUVÉDERM® Ultra Plus XC)
Ultimate Booty Boost: $8,500.00 (includes 40 syringes of JUVÉDERM® Ultra Plus XC)
Our signature
Body Contouring
packages featuring truSculpt® flex treatments can build and tone your glutes (abs and thighs too!) to take your Booty Boost results to the next level.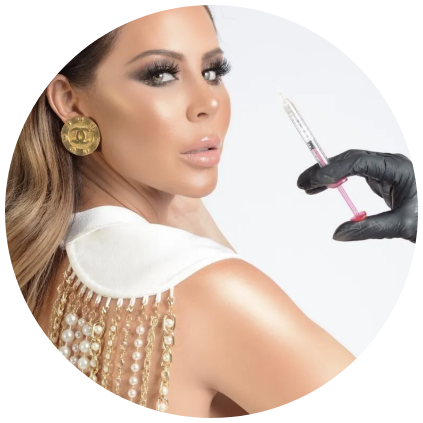 Meet Our Team Of Trained Aesthetic Specialists
Trust your ultimate #GlamGoals to a team of experienced aesthetics pros dedicated to being the best injectors, slimming specialists, and make-over magicians in Newport Beach and Corona. Each of our injectors (all RNs or MDs) are required to have completed a specialized 4-month injection training program on top of their existing medical education. This, along with their experience and sheer passion, ensures you get the results you're obsessed with while being in safe, skilled hands every step of the way
Your Booty Boost Experience: What to Expect
Your booty expanding experience takes place in our relaxing, world-class Orange County or Riverside County med spa, where we'll pamper you while perfecting your curves.
An experienced injector from our team will meet with you for a personal consultation to discuss the shape you envision for yourself and create a treatment plan tailored to your needs.
You won't feel a thing! We use topical anesthetics and injectable numbing agents to remove any worries about discomfort during your treatment. JUVÉDERM® Ultra Plus XC contains numbing medication as well.
After marking your buttocks while you are standing, you will relax lying face down on the treatment table. Your aesthetic injector will inject the filler into the marked areas of your buttocks using a small blunt-tipped cannula. For the PDO thread lift, special surgical threads are gently inserted into the skin of the buttocks using a special blunt-tip cannula then pulled to lift, tighten, and secure the tissues. This part of the treatment takes about an hour.
While no downtime is required, expect some swelling and bruising for up to 1 week. Taking Arnica and avoiding alcohol or blood-thinning supplements helps bruising subside as quickly as possible. You may experience some discomfort after a PDO thread lift but nothing like surgery. Over-the-counter medication usually does the trick.
No need to wait to see your amazing new booty; results from butt injections and PDO thread lifts are instant and get even better over the following 4 to 6 weeks as new collagen develops. Your new shape should last up to a year. To keep it going, come in for touch-ups as recommended.
Don't forget to stay in touch! Sign up for our VIP list to be the first to know about our current med spa specials and exclusive deals on CoolSculpting®, BOTOX®, and more at our Newport Beach and Corona locations. The perks don't stop there—our VIP members enjoy access to California Cosmetics giveaways, events, and contests. Sign up today.