HOW MUCH DOES A BOTOX® & PDO THREAD BROW LIFT COST IN ORANGE COUNTY & RIVERSIDE COUNTY?
At our Newport Beach and Corona, CA, med spas, nonsurgical brow lifts start at $1,290.00. Because we customize every procedure to create the best possible results, your price may vary a bit. We'll go over your expected costs with you during your consultation so there are no surprises.
HOW DOES THE CLEOPATRA BROW LIFT WORK?
The Cleopatra Brow Lift is the perfect combination of PDO threads and BOTOX® to achieve that lifted, upturned "fox eye" lift celebs and models are obsessed with. Here's how it works:
PDO thread lift: When injected near your brows, these absorbable threads create a stunning nonsurgical lift. They stimulate collagen production to firm the area even more, providing an extra tightening boost.
BOTOX® brow lift: BOTOX® relaxes the muscles that pull down on your brows, allowing them to lift to a naturally higher position.
Keep in mind this is not a one-size-fits-all treatment. You'll work with your injector to design the ideal shape, lift, angle, and arch you're looking for.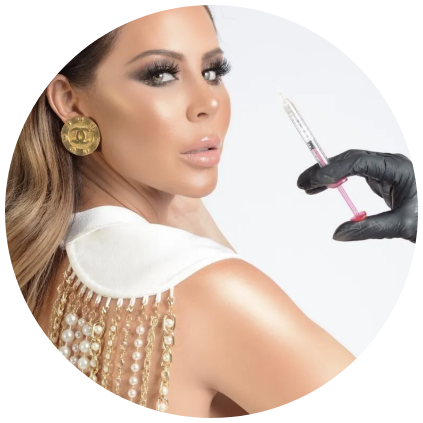 Meet Our Team Of Trained Aesthetic Specialists
Trust your ultimate #GlamGoals to a team of experienced aesthetics pros dedicated to being the best injectors, slimming specialists, and make-over magicians in Newport Beach and Corona. Each of our injectors (all RNs or MDs) are required to have completed a specialized 4-month injection training program on top of their existing medical education. This, along with their experience and sheer passion, ensures you get the results you're obsessed with while being in safe, skilled hands every step of the way.
Cleopatra Brow Package FAQs
Q: How Long Does It Take to See Results After a Nonsurgical Brow Lift?
A: You'll start to see results within 1 to 2 weeks. Some people need a couple of sessions to get the stunningly snatched and lifted look they're after.
Q: What If My Under-Eyes Need a Little Help, Too?
A: Have hollows or bags under your eyes that make you look perpetually worn out? It's an easy fix with the help of a little tear trough filler. You can have that treatment done on its own or as part of our Eyes Are the Windows to the Soul package.
What To Expect at Your Nonsurgical Brow Lift Appointment
We'll start by injecting a numbing agent called lidocaine to make sure you're numb and comfortable during your treatment. One of our
specially trained injectors
will then insert the PDO threads using a blunt-tipped cannula to minimize any injury to the delicate areas surrounding your eyes. Next comes a quick series of BOTOX® injections that only takes a few minutes. Then you're out the door!
What Is Recovery Like After a BOTOX® & PDO Thread Brow Lift?
We recommend scheduling your session 4 to 8 weeks before any big events. It's normal to have some swelling and bruising for about a week after your appointment. Your package includes the natural healing supplement Arnica to speed you through the recovery process.
Don't forget to stay in touch! Sign up for our VIP list to be the first to know about our current med spa specials and exclusive deals on CoolSculpting®, BOTOX®, and more at our Newport Beach and Corona locations. The perks don't stop there—our VIP members enjoy access to California Cosmetics giveaways, events, and contests. Sign up today.
Ready to visit our med spas in Newport Beach or Corona for a nonsurgical brow lift? Give us a call or text us at (855) 977-1982. Did you know you can meet with an injector to talk about your treatment without leaving home? Check out our virtual consultations.