How Does a Nonsurgical Facelift Work?
Your nonsurgical facelift (or "liquid facelift") will start with PDO threads strategically placed in the mid-face to tighten and boost the areas that may be looking a little lax or deflated. After the PDO threads have been placed, we'll smooth and define the jawline and smile lines with your 2 syringes of JUVÉDERM®.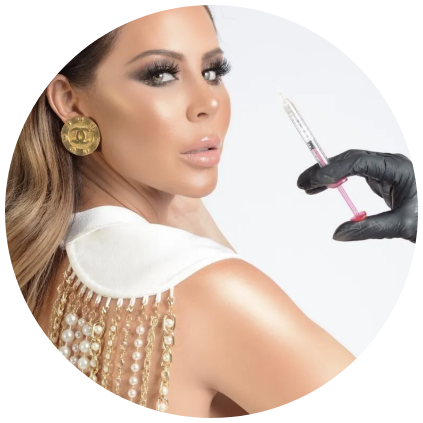 Meet Our Team Of Trained Aesthetic Specialists
Trust your ultimate #GlamGoals to a team of experienced aesthetics pros dedicated to being the best injectors, slimming specialists, and make-over magicians in Newport Beach and Corona. Each of our injectors (all RNs or MDs) are required to have completed a specialized 4-month injection training program on top of their existing medical education. This, along with their experience and sheer passion, ensures you get the results you're obsessed with while being in safe, skilled hands every step of the way
Nonsurgical Facelift FAQs
Q: What Is a PDO Thread Lift?
A: PDO threads are dissolvable threads made of polydioxanone, a dissolvable, medical-grade protein. These threads grab and reposition tissues to higher and more youthful position, all through just a tiny injection site. They also stimulate collagen production as they gradually dissolve, giving your look a longer-lasting lift.
Q: Do Nonsurgical Facelifts Hurt?
A: Our entire nonsurgical facelift package consists of minimally invasive injectable treatments that involve minor discomfort and downtime. To keep you extra comfortable, our specially trained injectors will use topical anesthesia an injectable numbing agent called lidocaine.
Q: What Is Nonsurgical Facelift Recovery Like?
A: Recovery is pretty quick and easy after an injectable facelift! You will likely have some swelling and bruising for up to a week, but that shouldn't stop you from enjoying most of your usual daily activities. You can cover up any bruising or redness around your injection sites with a little concealer after 24 hours so you won't miss a beat.
Don't forget to stay in touch! Sign up for our VIP list to be the first to know about our current med spa specials and exclusive deals on CoolSculpting®, BOTOX®, and more at our Newport Beach and Corona locations. The perks don't stop there—our VIP members enjoy access to California Cosmetics giveaways, events, and contests. Sign up today.
Ready to look younger, fresher, and more gorgeous than ever, all without surgery? Give us a call or text us at (855) 977-1982. Our medical spas in Newport Beach and Corona welcome people from all over Riverside, Orange County, and Southern California.
Did you know you can meet with an injector to talk about your treatment without leaving home? Check out our virtual consultations.